06.09.2017
With the Cosmo Sport at the Hamburg-Berlin-Klassik 2017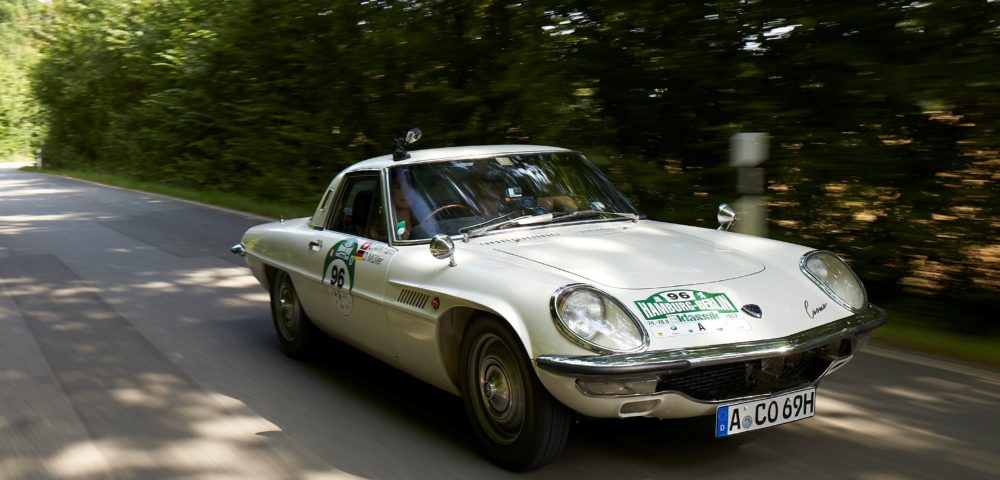 Successful completion of an ambitious project: on 24th August, Cyndie Allemann and Det Müller launched the tenth run of the classic car rally Hamburg-Berlin-Klassik with a newly restored Mazda Cosmo Sport. For three days the team competed stage by stage. The car had previously been restored in the Youtube format "Mazda Garage". Ever present: the camera, which accompanied the moderator duo Allemann/Müller, from the TV programme GRIP, in all challenges. All episodes of the Mazda Garage are accessible via the Youtube-Channel of Mazda Germany.
The Mazda Cosmo Sport came from the collection of the Frey family. Walter Frey also helped with the repair of the vehicle, which was in great need of restoration. In addition, the operators of the Automobile Museum took the opportunity to launch two more vehicles at the Hamburg-Berlin Klassik 2017. In addition to the Mazda Cosmo Sport, a Mazda RX-7 and a Mazda RX-7 Cabrio were launched.
The goal for the Cosmo Sport was clear: the rare classic should go back on the road and go the full distance at the rally. No problem for the driving legend, which, despite a minor defect in the brakes, mastered stage one of the 700 kilometre-long course. It wasn't just Cyndie Allemann and Det Müller who were enthusiastic about this, but also the countless car fans who welcomed the team to the Hamburg-Berlin-Klassik.
After the rally, the Mazda Cosmo Sport will be shown from 16th to 24th September at the Mazda exhibition stand at the IAA in Frankfurt. It will then return to the "Mazda Classic – Automobile Museum Frey" as a new exhibit.