15.05.2017
Successful Museum Opening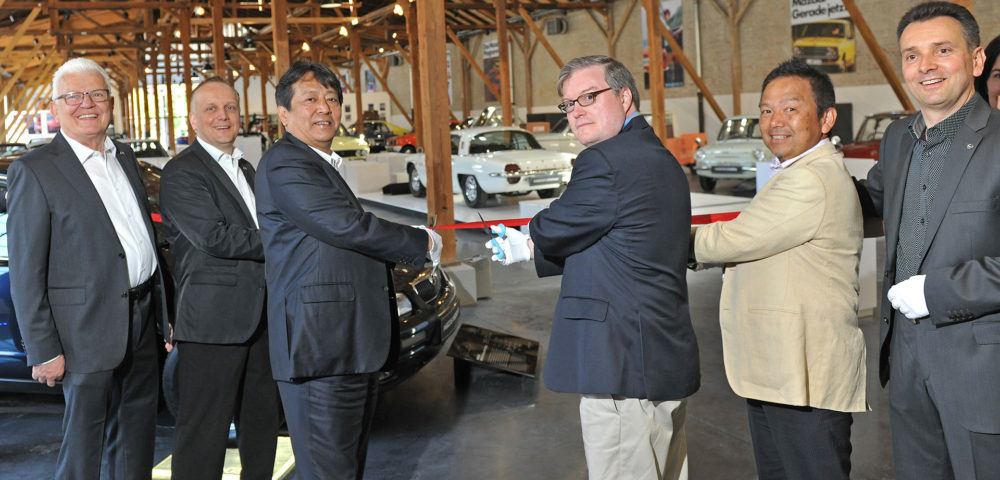 Several hundred car and technology enthusiasts found their way to the grand opening of the "Mazda Classic – Automobil Museum Frey" in picture perfect weather last weekend. They were among the first visitors to view the approx. 45 historic cars on exhibit. Museum founder Walter Frey and his sons, Markus and Joachim, could tell many interesting stories about the cars. Thanks to their efforts over the last few decades, the classic cars on display, many of which were never sold in Germany, were tracked down and lovingly restored. The passion with which the Freys have established their collection is also reflected in the rooms of the museum. The former tram depot, which is under historic building protection, was professionally renovated to accommodate its new function and now also features event spaces and a restaurant. Thus, an environment worthy of the historic Mazda vehicles was created. While enjoying burgers and refreshments, visitors had the opportunity to experience the special atmosphere of the "Mazda Classic – Automobil Museum Frey". The well-appointed museum shop was also a favorite during the weekend.
Two days prior to the grand opening, the museum hosted an evening reception for 160 invited guests including journalists and Mazda representatives. In addition to luminaries of Augsburg, Mr. Akira Marumoto, Executive Vice President of Mazda Motor Corporation, came all the way from Japan to attend the event. He was very impressed with what the Freys have been able to achieve in Augsburg.
The evening reception and grand opening weekend were the ideal debut for the "Mazda Classic – Automobil Museum Frey", which is now open during regular business hours Tuesdays through Saturdays, 10:00 am to 6:00 pm.